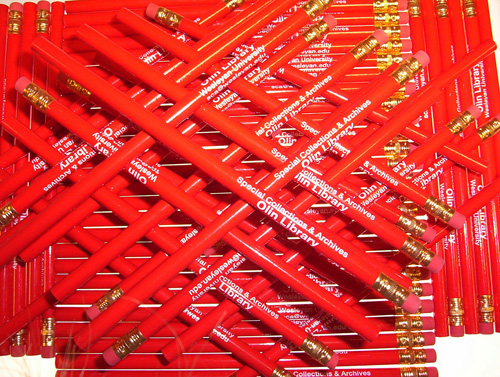 NOW AVAILABLE AT SPECIAL COLLECTIONS & ARCHIVES
The official SC&A pencil for only 25¢
●Everybody did you know for the small sum of 25¢ you can buy a writing instrument that writes under water, in zero gravity and upside down!!!!!!!!!
●Thesis writers did you know a pencil can write 45,000 words.
●Art majors did you know a pencil can draw a line 35 miles long.
●Environmentalists did you know more than two billion pencils are used in the
United States every day.
●College of Letters majors do you know what Henry David Thoreau and pencils have in common? In 1821, Charles Dunbar (the brother-in-law of author Henry David Thoreau) discovered a graphite deposit in
New England. This graphite was certified as far superior to any previously found in the
United States. With this high-quality material for its writing cores, the Thoreau pencil company came to be known as the maker of the finest pencils in
America.