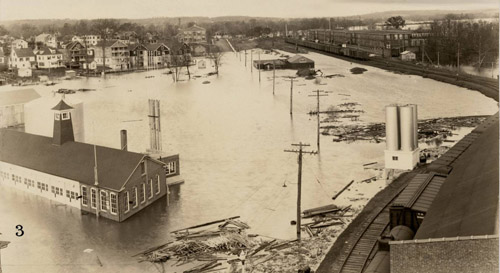 In March 1936, a severe flood struck Middletown. Especially hard hit were the low lying areas near the Connecticut River in Middletown's North End. This is a photograph facing north with the river on the right-hand side.
Wesleyan students, although safe on the high ground of the campus, helped with flood relief. Some worked with the Red Cross, helping ferry residents to safety, while others operated radio communications to keep state officials and RedCross headquarters in Hartford apprised of the conditions in Middletown. The biology and chemistry department even pitched in to do chemical analysis of drinking water to determine its safety.
Wesleyan's student newspaper, The Argus, noted in a March 28, 1936 article that "Time spent in moving people and personal belongings from houses in the affected districts should give a little better appreciation of the living conditions from which the undergraduate is accustomed to divorce himself completely, and a glimpse of character and personality of such times of those just past cannot but be of value. " The 1936 flood is an early example of community service offered by Wesleyan students within the greater Middletown community.
More photos and other information about the 1936 flood can be found in Special Collections & Archives, Monday-Friday, 1-5pm. Also see Elizabeth A. Warner's A Pictorial History of Middletown for more about the flood and Middletown history.