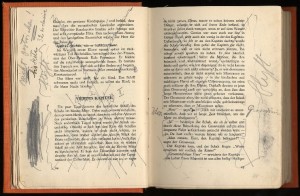 A publisher's proof copy of a novel, with the author's own edits and revisions hand-written throughout, gives us a rare glimpse into the author's writing process. What sections did he or she cut? How were phrases rewritten, or words exchanged for other, better choices? We have such a view into the writing process of the 20th-century Austrian novelist Joseph Roth, thanks to the generosity of the Kallir family.

Joseph Roth's novel, Die Geschichte der 1002. Nacht, written in the late 1930s, has been described as an "anti-fairy tale," mixing exotic settings and characters (a harem in Persia, the Persian Shah and his chief eunuch) with those of a morally lax and callous Vienna during the final period of the Hapsburg Monarchy.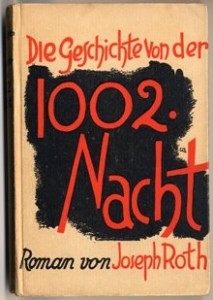 In 1937, the Dutch publisher, De Gemeenschap, printed a small run of copies of the novel for Roth's friends. But before the novel's official publication in 1939, Roth made extensive revisions, cuts, and edits in a proof copy that his publisher had sent him. The final version is over 60 pages shorter than the original. That proof copy is now owned by Wesleyan's Special Collections department. Scholars can now study exactly what cuts and changes Roth made to his text, indicated in his own handwriting.