On Friday, January 15, I had the honor of interviewing former Wesleyan president, Douglas J. Bennet, Jr.  I had spent the spring and summer of 2009 arranging and describing his professional papers which are now open for research in SC&A.  As a processing archivist I am privileged to spend many weeks working with the materials in a collection.  I frequently find correspondence, which can explain the creator's motivation or how he felt about an event.  There may also be awards and testimonials, professional writings, and sometimes childhood mementos or family scrapbooks.  After deciding on the intellectual arrangement of the papers and removing clips and staples, placing the papers in labeled archival folders and boxes and describing the collection in the finding aid, an archivist feels she knows her subject extremely well.  My interview with President Bennet brought home to me that an archival collection, no matter how well arranged and described, is necessarily only a partial picture of its creator.  An interview allows the subject of a collection to fill in gaps, to interpret what is not clear, and to give emphasis to influences and forces that may not have been apparent to the archivist.  In the interview it became clear that President Bennet's career has been a terrific example of the benefits of a liberal arts education.  Wesleyan gave him the tools to find information when he needed it and the confidence that he could set goals and figure out how to achieve them.  I also had not realized the profound influence that Chester Bowles had upon him.  It is rare that an archivist has the opportunity to speak with her subject.  I am fortunate to have been able to do so.
The interview is being transcribed and will be available in SC&A in the near future.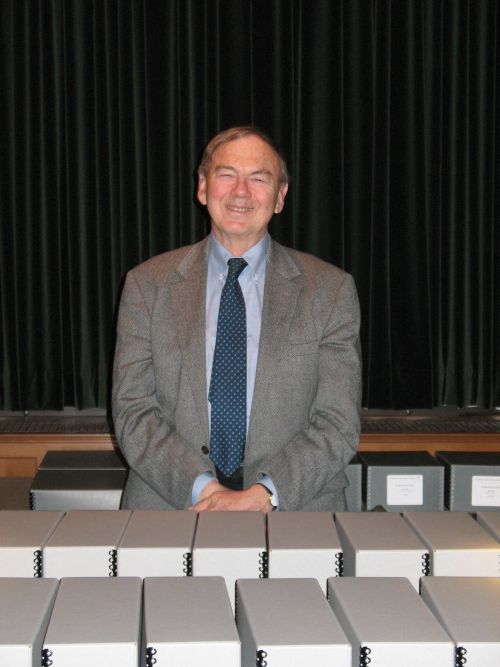 The funding for this project was generously provided by lead donations from Bob McKelvey, class of 1959, and the Adelphic Educational Fund, with additional support from faculty and staff, in honor of Doug Bennet's retirement.