In our last post, I started to describe the task known as "Shelf Prep," and how we protect our fragile rare  books.  In this post, I go on to describe the three types of housing we create for the books.
As the blue e-flute box specialist, I have been working mainly with old class albums. These leather-bound volumes from the latter half of the nineteenth century are something like prototypical yearbooks from the dawn of photography, filled with portraits of past Wesleyan students and professors. These are clearly finely crafted and expensive books. Besides giving us a window into a far-off, mutton-chop-studded past, they also stand out as lovely volumes made with worked leather, gilded edges, metal clasps, and high-quality paper.
Because they are so heavy and easily damaged, Ms. McCallum taught me how to use special blue e-flute cardboard to build special boxes for each of the class albums. First, I carefully measure the dimensions of each volume, and then cut out a form from the blue e-flute cardboard. I then use a special type of glue that I get from Michaelle Biddle, head of the Preservation department, to fasten the box together. Finally, while the glue is drying, I print up labels and glue those on the side of the box that will be facing the aisle. The entire process takes me about forty minutes per box. (Click on any of the following images to enlarge.)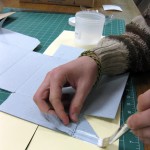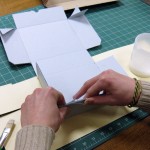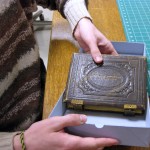 The blue e-flute box is our heavy duty Shelf Prep project. Only those objects that really need special protection and support, such as our class albums, require this type of box. For most other objects, the tag board box is our go-to preservation technique. With most volumes that are beginning to show signs of decay, as well as with unusually-shaped artist books, the tag board box is sturdy enough to keep these objects protected, yet simple enough to execute several boxes per hour. In the following pictures, Jessica Levin '11 demonstrates how she makes a tag board box.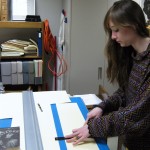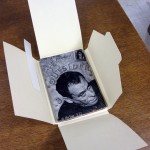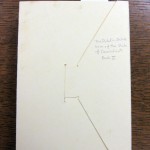 Finally, Anna Katten '11 demonstrates our third Shef Prep skill: making mylar dust jacket covers. Some books are in good condition, but they come with a dust jacket. Dust jackets easily snag on things and tend to tear around the edges, so to protect them we encase each one in a mylar cover. The following pictures illustrate how Anna Katten '11 makes mylar covers for dust jackets.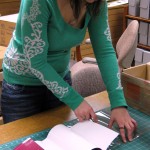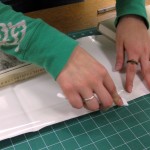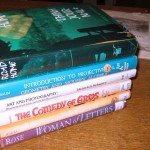 As we work we keep a tally of how many objects we processed each month. In the past year, the three of us have produced an average of 8.88 blue e-flute boxes, 13.83 tag board boxes, and 97.14 mylar dust jacket covers per month. But in a collection that includes over 30,000 rare books with many more accessioned every year, our work may still take several more generations of student workers to complete!