Last spring, a group of rare, Jewish-related books arrived at Special Collections & Archives, as a result of a new partnership between Wesleyan University's Special Collection & Archives, Wesleyan's Jewish and Israel Studies Program, and Middletown's Congregation Adath Israel.  These rare books from Adath Israel are now on long-term loan to Special Collections & Archives in Olin library, to be used for research by students and faculty, in particular in Prof. Magda Teter's Jewish history classes.
Many of the books from Congregation Adath Israel are in Hebrew, and they are all somehow related to Jewish life, language and religion.  They range from a 1553 history of the Jewish people written in Latin by Josephus Flavius, to a 20th century Tanakh published specifically for Soldiers of the Israeli Defense Forces.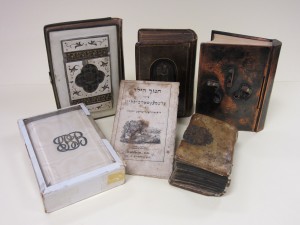 The rare books from Adath Israel complement SC&A's growing collection of Hebrew and Jewish books, many of which have been donated to us by the Jewish and Israel Studies program.
As students in Magda Teter's classes have learned, each book has a story to tell, not only in its content, but in the physical nature of the book as well.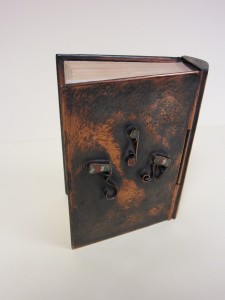 For instance, the 20th-century Tanakh published for Soldiers of the Israeli Defense Forces is now in a copper binding with raised Hebrew characters on the front cover, inlaid with colored stones from Israel. Such an elaborate binding would not be practical for soldiers in the field.  It almost certainly was not issued this way from the publisher.  When was it rebound, by whom, and for whom?  These are questions we may not easily be able to answer.
Some books are much more up front about their history.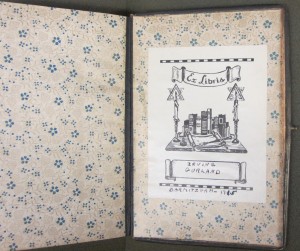 For example, a daily prayer book belonging at one time to Irving Gurland displays a beautiful bookplate inside its front cover, with Irving Gurland's name and the annotation "Barmitzvah – 1915."  This book also has an elaborate binding, incorporating ivory, fine metalwork, and even fabric inlays.
Some items in the collection are unique manuscript items, such as the Jahrzeitbuch belonging to Louis Goldberg.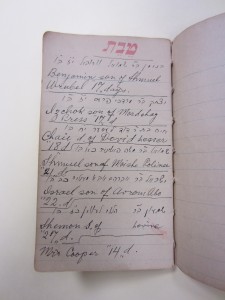 A Jahrzeitbuch is a booklet in which the owner listed names of the deceased, death dates (according to the Hebrew calendar), and the time prescribed to pray for their souls.  This particular one includes writing in both Hebrew and in English.
Information about all of the books on loan to us from Congregation Adath Israel can be found in the library's online catalog.  To see a list of the titles of all of these books within the catalog, simply type the phrase (including the quotation marks):  "on deposit from Congregation Adath Israel" into the search box in the library catalog's Basic Search mode, and search as Keyword.  Or click here to be directed straight to the results of that search.
To view any of these books in person, feel free to stop by Special Collections & Archives during our open hours: 1-5pm, Monday – Friday.  We'll need the call number of the book you are interested in, and a little time to page the book from our closed stacks.
The books shown in this blog post include:
Tanakh : Torah neviim ketuvim le-heyalei Tsava-hagana le-Israel.  Jerusalem: Koren Publishers, 1966.
Call number: BS715 1966
Tefilat Yiśra'el:  The form of daily prayers : according to the custom of the German and Polish Jews, with a new translation in prose and verse by Henry A. Franklin.  Frankfurt-am-Main: J. Kauffmann, n.d. (19–?)
Call number: BM665 .F73 1900z
[Jahrzeitbuch] / Louis Goldberg.  (19–?)
Call number: BM712 .G592 1900z
The Torah, carefully translated according to the Massoretic text after the best Jewish authorities, by Isaac Leeser.  New York: Bloch Publishing, (19–?)
Call number: BS1223 .L44 1900z
Kitve kodesh: Torah neviim u-khetuvim.  Vienna and Budapest: Verlag 'Sinai,' Jos. Schlesinger, 1936.
Call number: BS715 1936
Maḥzor mi-kol ha-shanah ke-minhag ʻashkenz u-folin … : ‡b ʻim kriʻat ha-parshiyyot we-haftorot mi-kol ha-moʻadim … we-ʻatah nidpas me-hadash paʻam shenit …  Amsterdam: Yetomē S. Proops, 1738.
Call number: Small BM674.4 .A3 1738
Hinukh ha-yeled, oder, Elementarbikhlein fir di izraelitische iungend.  Rödelheim: J. Lehrberger, 1836.
Call number: PJ4589 .H56 1836