On view in the exhibit cases outside Special Collections & Archives, 1st floor Olin Library, during library hours
This year, 2019, marks the 50th anniversary of the Center for African American Studies and the graduation of Wesleyan's Vanguard class, the first group of actively recruited minority students. To help celebrate these occasions this exhibit was created to look back at the history of Black students at Wesleyan from its beginnings through today.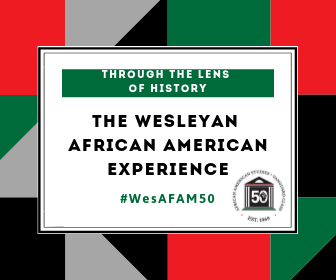 The cases include materials from Wesleyan's Special Collections & Archives that trace the Black student experience at Wesleyan over the years, but especially focusing on the Vanguard class and evolution of the Center for African American Studies into a newly formed department in 2018. The cases conclude with information on how the viewer can help the university archives diversify their holdings through material donations.
On the walls to complement the cases, there are images showing highlights of what was going on within the larger world at the times discussed within the cases. This exhibit looks to show how the large-scale historical and popular events of the world likely had an effect on the students at Wesleyan and place what the students were experiencing in context with the outside world.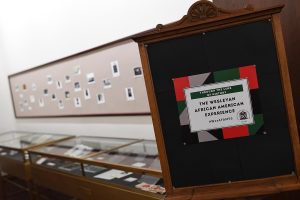 Much of the background information to create the exhibit is from David B. Potts' two volumes of "Wesleyan University, 1831-1910" (Potts) and "Wesleyan University, 1910-1970" (Potts 2) along with Alford A. Young, Jr.'s "Revolt of the Privileged: The Coming Together of the Black Community at Wesleyan University, 1965-1976" (Young). They are cited and directly quoted throughout the exhibit.
This exhibit was curated by Amanda Nelson and Emily Voss. Special thanks to Suzy Taraba, Cynthia Rockwell, Liza McAlister, Jesse Nasta, and Andrew White for their support and assistance in preparing the exhibit.
To further celebrate the 50th anniversary of the Center for African American Studies there are additional exhibits located across campus:
Olin Library, 1st floor exhibit cases – Through the Lens of History: the Wesleyan African American Experience

Olin, reading room – Student curated mini exhibits

Olin, 3rd floor music library – Celebrating the History of African American Music at Wesleyan

Usdan, 1st floor – History of the Ankh and Black Life at Wesleyan through the years

Usdan, Daniel Family Commons – Books in Black Studies by Wesleyan faculty and alumni