With Wesleyan classes, and others, using the Middletown-based resources in Special Collections & Archives, we're using the opportunity to summarize some of most the frequently used resources.  This blog takes a look at some of the student-prepared resources.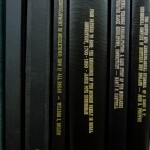 Many recent student theses (Bachelors and Masters) and dissertations have been added to WesScholar by the authors.  Most of the theses here date from 2007 forward and an occasional thesis dates as far back as 1972 have been added to WesScholar—this will continue to change as WesScholar grows.  To locate the theses online, go to WesScholar at http://wesscholar.wesleyan.edu/etds/ and use the search box in the upper right corner of your screen or simply browse the honors theses by title.
The library catalog identifies all theses and dissertations.  You can make your search more specific by using Caleb's "advanced search" option (http://ctwweb.wesleyan.edu:7003/vwebv/searchAdvanced).  Try using your keywords (such as Middletown, history, thesis) in the keyword boxes and limiting the location to Special Collections & Archives.  This will pull up information about Wesleyan students' theses beyond what WesScholar carries. Theses with call numbers starting "Special Collections" may be requested and used in the department.  Theses in WesScholar are linked to the catalog record; look for the "View in WesScholar" link below the title.
There's another rich resource for student papers: The Student Papers About Middletown Collection.  The collection features graduate and undergraduate papers about the history of Middletown, Connecticut and the surrounding area written since 1976. Topics include politics, labor, commerce, ethnic and racial groups, women's history, leisure—and much more.  A finding aid (that is, descriptive information about the collection) is located at: http://www.wesleyan.edu/libr/schome/FAs/mi1000-133.html and is also available in Special Collections.  A taste of the titles found in the collection include: "The Starr Family of Middletown, Ct.: A Study in Social Mobility and Social Experience," "Voluntary Associations and the Y.M.C.A. in Middletown, 1885-1911," and "Blacks in Middletown Around the 1790s: A Summary of Information Obtained Primarily from Land Records."