Special Collections & Archives has good local history holdings and these are being heavily used by Wesleyan students this semester.  Current Middletown streets and structures show much of the town's architectural history—but what about features that are no longer there or obscured by recent growth? Where was the Beman Triangle located? When did the course of Church Street change and why?   This blog post looks at some of the resources to investigate Middletown's built environment−locations, streets, and structures.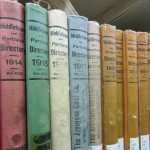 Beers, F.W. County Atlas of Middlesex, Connecticut: From Actual Surveys. New York: F.W. Beers & Co., 1874. Call Number: SPECIAL COLLECTIONS Middletown Oversize + B41 C6  Beers' Atlas has the mapping you anticipate in an atlas.  This one also notes property lines and ownership as well as the structures.
Commemorative Biographical Record of Middlesex County, Connecticut: Containing Biographical Sketches of Prominent and Representative Citizens, and of Many of the Early Settled Families. Chicago: Beers, 1903.   Call Number: SPECIAL COLLECTIONS Middletown C73 M5     The Record delivers the promised biographical sketches focusing on men.  A sketch usually includes ancestry and offspring with the career and public service highlights of the individual.  Read carefully and you'll also find historical narrative of local businesses, schools, churches, and civic organizations.
Greater Middletown Preservation Trust.  Middletown, Connecticut: A Survey of Historical and Architectural Resources. Middletown, Conn.: The Trust, 1979.  Call Number: SPECIAL COLLECTIONS Reference G78 M5     A brief history of Middletown opens this resource for notable and historic buildings.  It provides street level descriptions ("Generally rural, early to mid-19thc. residences") as well as specific description, location, changing ownership and use of structures into the late 1970s.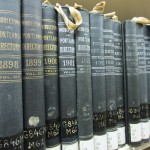 Middletown city directory (various titles), 1868-1927 (Spec Coll), 1928-1980 (stacks);  Call Number: SPECIAL COLLECTIONS Middletown F 104.M6 A18  Call Number: F 104.M6 A18      The directory provides more than an alphabetical entry of names and addresses.  Here, you may find the head of household's employment or trade ("chauffeur").  You will also find associations, clubs, churches, and other organizations listed in the directory. The street directory, or reverse directory, is handy to reconstruct a neighborhood.  Both the listings and advertisements offer some insight to Middletown's local economy.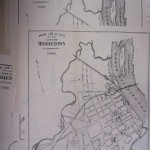 You will also want to know about the Price, Lee & Co. Middletown maps located in Special Collections.  The maps were originally part of the directories noted above but were removed for preservation reasons in the 1970s−most of these maps are printed on tissue-like paper, are fragile, and easily torn.  These date between 1888 and 1927.  Additional uncataloged maps, from other sources, date from 1825 to 2003.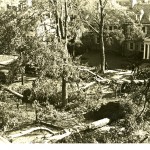 Middletown streets of past years may be seen in the Vertical File Photographs Collection.  Most of the photographs date from the late nineteenth and early twentieth century.  You'll want to ask the reference archivist for assistance on this one—some of the headings are, let's say, non-standard "Middletown-Disasters-Storms-1938 Hurricane" and "Middletown-Streets-High Street" for example.
Another resource for Middletown photographic images will be available in coming months. Middletown Press photographs from about 1920 to 1985, 23 boxes (!), are being organized and listed to make them useable.  Additionally, also being listed and described, are the Press research files (33 boxes!).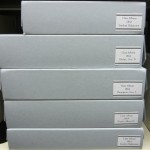 Finally is a rather unexpected resource for Middletown photographs: Class Albums.  The Class Albums are a precursor to the yearbook.  Students purchased a selection of photographs by local or New York photographers to include in their class albums: classmates, faculty, campus and local scenes.  There is a typewritten list for many of the albums but it will still take some hit-or-miss searching to locate the class albums with Middletown scenes. Albums from the 1880s seem to have the highest yield. (Special Collections & Archives has a description project underway to make the class album contents searchable with a description of their contents.)