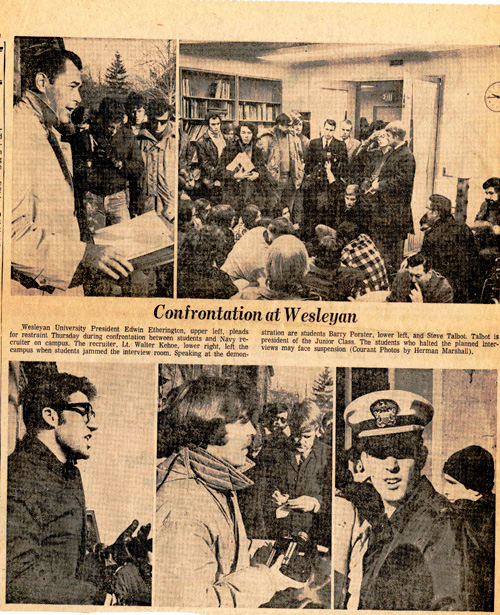 Wesleyan generally prides itself on its reputation for political activity. Recently, according to the November, 30th edition of the Argus, 50 student, faculty, and citizen protesters marched down to the Army recruitment office in Metro Square in protest of the war in Iraq.
Forty years ago, the University was in similar circumstances during the Vietnam War. On February 6, 1969, about 200 students gathered at North College and effectively blocked a Navy recruiter from meeting with students, and made it clear to the University that they objected to the war and military recruitment. The events, covered in several local newspapers, immediately became a decisive factor in how the administration chose to navigate its policy between appeasing students and faculty deeply opposed to the war and military recruitment on campus, and between a military establishment with the legal right to offer its career options to students. Both sides of the conflict used considerable leverage to pursue their aims. During the 1970-1971 school year, the University was accused by certain faculty members of recruiting students for espionage, holding government executive sessions behind closed doors at military request and violating academic freedom, and of concealing information of such proceedings from the community. However, during the same time, Wesleyan also found itself accused by the US Marines Corps, who then informed the Secretary of Defense, of barring military personnel from campus in violation of the NASA Act. The University seems to have been able to appease both sides, and the tensions waned as the war ended in 1973.
This collection is mostly comprised of correspondences amongst faculty members, and between the University and the military. It also contains a lot of interesting newspaper articles about the protests and changes in University policy, as well as some interesting personal documents and essays from specific faculty members that shed some personal light on what was going on at Wesleyan, behind closed doors, during this tumultuous time.