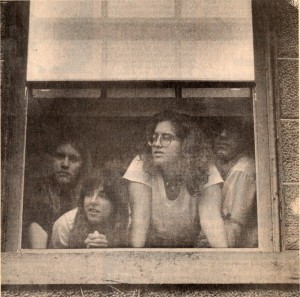 In 1982 Wesleyan students protested the administrations elimination to their aid-blind financial aid policy. The students held a 150-hour protest on the second floor of North College (as shown in this picture), one hour for each year the university existed. The university responded to their protest by denying the students potty privileges and locking the bathroom facilities in North College. If the students wanted to pee they would have to leave the building and get locked out. In response the students used a bag in the corner one of the administrators' office (where they were sleeping) and periodically lowered the bag of refuse out the window. Public Safety caught the students in the act and the administration reported them to Student Judicial Board (SJB) and tried to shut the sit-in down. The SJB decided that the bathrooms should be unlocked, the students should be allowed support runners, and the students should move to more public office.
Earlier in the spring 1982 semester, over 600 Wesleyan students attended a rally in Washington D.C. to protest President Reagan's higher education cuts. It was well publicized that Wesleyan students were the largest single group in attendance. Later 1,284 students signed a petition for the university to bring back the aid-blind admissions policy. When that didn't work they resorted to the 150-hour sit-in which was during reading week and spring fling. Many of the students inside North College had plenty of time to study for their final exams! They commented that spring fling made more noise and disturbances than they were during their entire sit-in.
More information about this protest can be found in the April 29th Coalition Records.