As we watch the many dangerous hurricanes striking the Caribbean, Gulf Coast, and southern Atlantic Coast of the U.S. in recent weeks, those of us in New England might feel lucky to be so far out of harm's way.  You might be surprised to learn that Wesleyan–and New England as a whole– faced a major hurricane in 1938, seventy years ago this month.
On September 21, 1938, an extremely powerful hurricane, known as the New England Hurricane of 1938, ripped across Connecticut, Rhode Island, and New York. Over 680 people were killed in the storm, and many more were injured or left homeless. The storm travelled up the Connecticut River and caused a large amount of damage in Middletown and at Wesleyan.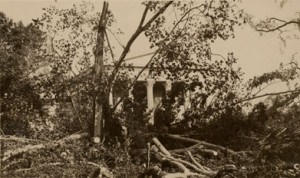 Trees, including some beautiful elm trees, were felled all over campus. Russell House, depicted above, lost 88 trees in the storm. Many buildings had damage to their roofs, but the Chapel had by far the most dramatic destruction.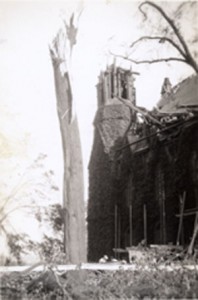 The steeple that is missing in the above picture collapsed onto the Chapel roof, where dozens of students waited after an address from President McConaughy. Luckily, no one was injured in the accident.
Special Collections & Archives has additional information and photos about the 1938 hurricane, and Suzy Taraba, Head of Special Collections and University Archivist, wrote about the event for the Wesleyan Alumnus magazine in 2005. It was a terrifying experience that changed the campus and the region for years to come.