The following post was written by our intern Annie Benefiel, a library science student in the Simmons College library program.
As one of the earliest "town and gown" organizations at Wesleyan, the Middletown Scientific Association explored popular scientific topics from 1871 to 1968. Its membership was comprised of Wesleyan University faculty members as well as residents from Middletown and surrounding areas. At their frequent meetings, most often held in science lecture halls at Wesleyan, members presented papers on their own scientific interests or heard lectures from visiting scientists and educators. Occasional field meetings found members exploring hands-on scientific inquiry in the fields of botany, biology, astronomy and geology. As early as 1880, women were admitted into the association's membership.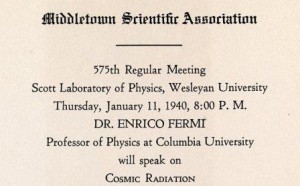 Even though membership swelled to over 300 members, attendance at meetings began to dwindle. In 1968, the association's leaders polled the membership about meeting attendance and a consensus replied that while their interest remained high, they were just "too busy" to attend. The association directly disbanded.
The records of the Middletown Scientific Association, recently processed by Special Collections and Archives, contain the organization's administrative records. Included are several books of minutes, printed meeting announcements, treasurers' and presidents' reports, clippings, correspondence, and other historical materials which document the organization's operations.