The following post was written by Doreen Mangels, a graduate student in the Simmons Graduate School of Library and Information Science. This semester Doreen was an intern in Special Collections & Archives. We are grateful for her excellent work!
I recently finished processing two series in the Music Department Records collection.  The first series includes proposals, correspondence, and other print materials relating to the creation of Wesleyan's doctoral program in ethnomusicology.  These records date back to the 1960s.  Wesleyan was a real pioneer in the world music field.
The second series contains about 400 photographs—mostly in black and white—of music performances at the university.  In some of the shots, the performers are posed for the photographer—stiff, formal, with smiles firmly in place; in others, they're captured in the middle of a concert or recital, and we can see on their faces intense concentration and, at times, the exhilaration of performing.
In addition to photos of faculty, many student groups are pictured:  the Wesleyan Glee Club, the Jibers, the Cardinals, instrumental ensembles, the Wesleyan Band on the field.  These date from the 1940s to the 1980s and give a real sense of the music tradition at the university.
The collection also contains images of world music performers who visited Wesleyan.  These photos are fascinating.  We see artists who specialized in African, Indian, Indonesian, Korean, and Native American music, the instruments they played, and the traditional dress they wore while performing.  I was particularly intrigued by the photos of Indonesian performers.  There are shots of dancers wearing elaborate armbands, headdresses, and masks, some with long, protruding fangs.  There are also pictures of Wesleyan's own Javanese gamelan orchestra.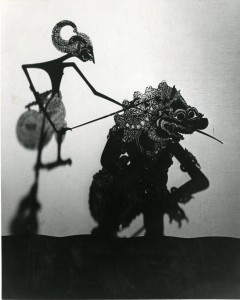 My favorites were photos of a performance of Javanese wayang kulit–a shadow play with flat leather puppets—given at Wesleyan in 1970.  A program in the collection explains that this was the first all-night performance of its kind in the United States.  The accompanying explanatory notes describe the significance of the imagery and chants and how the dalang—the puppeteer—manipulates the puppets, delivers the dialog in many voices, describes the scenes, and comments on the meaning of the play.  In the photos, we see the behind-the-screen action of dalang Oemartopo as well as the magical images the audience saw.