Throughout history, artists and writers have commented on, protested,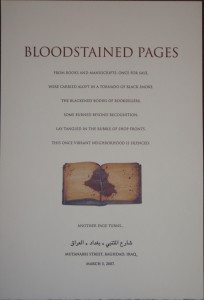 or memorialized events current to their time, and today's artists continue to do the same.  Special Collections & Archives recently acquired a set of broadsides (that is, printed large single sheets of  paper, like a poster) that are part of the "Al-Mutanabbi Street Starts Here" project.
On March 5, 2007, a bomb exploded in Baghdad, in the middle of Al-Mutanabbi Street, killing at least 30 people and wounding over 100 more.  Mutanabbi Street was the center of bookselling in Baghdad.  The winding street, named after the revered 10th Century classical Arab poet, Al- Mutanabbi, was full of booksellers and outdoor book stalls, and had been for centuries the historic heart and soul of the Baghdad literary and intellectual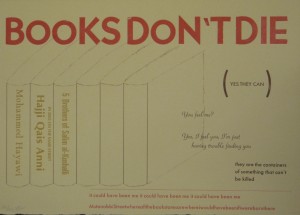 community.
In response to the bombing,the San Fransisco poet and bookseller Beau Beausoleil and the printer and professor Kathleen Walkup, along with fellow poets and artists, formed the Mutanabbi Street Coalition, to, in their own words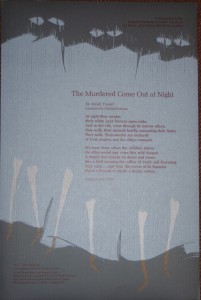 "commemorate not just the tragic loss of life, but also the idea of a targeted attack on a street where ideas have always been exchanged."
Over forty letterpress printers responded to the tragedy with positive creativity: by printing a series of broadsides that have become known collectively as the Mutanabbi Street Starts Here Coalition Project.  Most of the broadsides highlight the work of Iraqi poets as well as the artwork and design of the coalition members.  Wesleyan's collection comprises 12 of the original 40 creations.
These broadsides offer an opportunity to study how current day artists, poets, and printers respond to and comment on events around them, and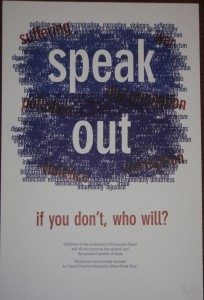 highlight a subject that is still relevant today.
A complete collection of all of the contributions to the project is held at The Arthur & Mata Jaffe Center for Book Arts at Florida Atlantic University.  The fully digitized collection, as well as more background on each broadside, is available at http://www.library.fau.edu/depts/spc/JaffeCenter/collection/al-mutanabbi/index.php.