For the past semester I have been slowly working my way through Special Collections and Archives's collection of Sheila Tobias's papers. The collection of Women's Studies ephemera – newspaper articles, women's conference programs, academic papers, and magazines, all filed and organized by author or theme by Tobias – fills twelve boxes. They operate as a veritable time capsule of 1970s feminist thought, documenting the challenges and obstacles women faced in education and academia as well as the efforts made by second wave feminists such as Tobias.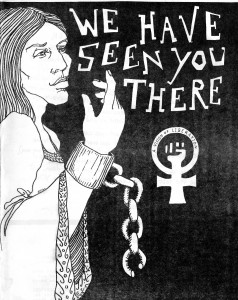 Sheila  Tobias is a scholar, author, and feminist, best known for her work exploring gender issues in education,  science, and militarism and as an educational consultant. She co-founded one of the first major women's studies programs and organized a women's conference during her time at Cornell. During the 1970's, she served as Wesleyan's first female provost,  supervising women students and the hiring of female faculty.
Part of the reason processing this collection has taken so long is the sheer volume of materials but mostly it's because every few folders, I find something so interesting or evocative I have to stop and read it. . .
Some personal highlights: A 1950's sociological survey of Yale students' attitudes towards dating and women. Correspondence between Tobias and Betty Friedan, the famous second wave feminist and founder o
f the National Organization for Women (NOW). An essay entitled, "The Politics of Prostitution." Student papers from the first American Studies courses taught at Wesleyan. "Politics of  Male Liberation," the 1973 Berkeley Men's Center Manifesto – a touching and idealistic declaration by an early pro-feminist men's movement group, positing that in the same way women are socialized for certain feminine traits and behaviors, men are socialized to conform to expectation of masculinity and that men too need to liberate themselves from the constraints imposed by a patriarchal society. A grim report called "Structural and Internalized Barriers to Women in High Education" – did you know the number of women granted master's degrees and doctorates actually went down between 1930 and 1970?
As you can see, the collection contains materials ranging from the academic to the radical, but all of it's fascinating. The collection is still being processed but I foresee students interested in American studies and Women's Studies/FGSS issues clamoring to get at these compelling primary sources documenting the rebirth of a movement.
First image: cover art from a journal published by Sisters Rising, a women's group at Syracuse University.
Second image: the cover of The Political Economy of Women, a review of radical political economics put out by the Union for Radical Political Economics (URPE).