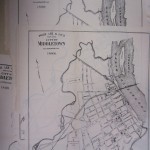 With such strong interest in Special Collections & Archives' local history resources this semester, we wanted to offer the larger community with information that we provided three classes.  In recent posts we covered some of the frequently used resources such as general histories, theses and student papers, maps and directories, print and manuscript holdings. Of course, Wesleyan history is a part of Middletown's history—but we limited our focus to town rather than gown. ("Gown" will take more than a handful of posts.) While this is the last planned post on the topic, it is by no measure the final word!  Check it out for yourself, try searching the online catalog for materials with these subjects: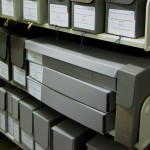 Community development—Connecticut—Middletown
Middletown (Conn.)—Commerce
Middletown (Conn.)—History
Middletown (Conn.)—Politics and government
Middletown (Conn.)—Social conditions
Middletown (Conn.)—Emigration and Immigration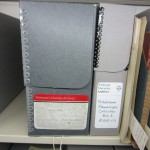 Keep in mind that Special Collections & Archives is not the only site to find solid Middletown history information.  To be thorough with your search, you will also want to learn more about the holdings at:
Middlesex County Historical Society in Middletown http://www.middlesexhistory.org/index.htm
They are "[d]edicated to preserving the history of Middlesex County" and their holdings include "many items from Middletown's rich manufacturing past, such as suspenders made at the Russell Manufacturing Company."
The Russell Library's Middletown Room http://www.russelllibrary.org/reference/history.html
The local public library also keeps a focus to local history, "The mission of the Middletown Room is to identify, collect, organize, preserve, and provide public access to the materials that document the economic, natural, political, and social history of Middletown, and with lesser emphasis, the northern towns of Middlesex County." Their resources include "Microfilm archives include Mellili church records, discontinued Middletown Newspapers and Middletown/Penny Press, passenger lists, etc."
City of Middletown. Public records are maintained by the City of Middletown, available onsite, online, and elsewhere.  Property records from 1969 are available online through a by-subscription portal https://connecticut-townclerks-records.com or at the Department of Planning, Conservation, and Development. (It's a good idea to call ahead.) Vital records (birth, death, marriage) are maintained by the Health Department.  Census information is available also through the Department of Planning, Conservation, and Development: http://www.middletownplanning.com/Census.html. Community development, planning, and zoning are addressed by this department as well.
A little further afield, the Connecticut Historical Society and the State Archives abound with Middletown history information:  http://www.chs.org/, http://www.cslib.org/archives/.
In this closing blog, we wanted to point to a few staff favorites that are not previously identified in the Middletown on My Mind series.
I've found Suzy Taraba's regular column in the alumni magazine a good source for those intertwining topics of town and gown.  Check out a sampling at: http://www.wesleyan.edu/magazine/magazine/mag_archives/.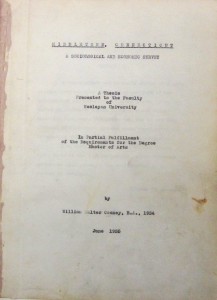 Cooney, William Walter. Middletown, Connecticut: A Sociological and Economic Survey.  Thesis (M.A.) Wesleyan University, 1935.  Call Number: SPECIAL COLLECTIONS Wesleyan (Thesis) M1934 C77  This is an oldie but a goodie.  Who will survey Middletown from sociological and economic perspectives from 1935?
Lombardo, Joseph. Green Street: The Americanization of a Sicilian Village. Thesis (MALS) Wesleyan University, 1999. Call Number: SPECIAL COLLECTIONS Wesleyan M1999 L86
Missionary Lyceum Records, 1834-1871, 2 linear feet, promoted a missionary zeal among its members by way of debates, addresses, collection of artifacts and literature from foreign missions, and the exchange of correspondence with various missionaries.  The Lyceum took an innovative step in 1848 by according honorary membership to a woman−Adelaide Fitzgerald of Middletown. Call Number: SPECIAL COLLECTIONS 1000-95
Nasta, Jesse. 'Their own guardians and protectors': African-Americans in Middletown, CT. Thesis (B.A., Honors, History) Wesleyan University, 2007. Call Number: SPECIAL COLLECTIONS Wesleyan (Thesis) 2007 N269
Perlstein, Daniel, "The House that Isaac [Warner] Built," 1981 in Student Papers About Middletown Collection. (Box 4, folder 12). Call Number: SPECIAL COLLECTIONS 1000-133
William North Rice Papers, 1861-1955, 4.5 linear feet, includes personal diaries and account books kept by William North Rice during his time as a Wesleyan University student, and correspondence from family members, friends, colleagues, and fellow alumni from throughout his life. The subject of many of the diary entries and letters is Wesleyan University, and these writings contain information about a breadth of topics including social life.  Call Number: SPECIAL COLLECTIONS 1000-123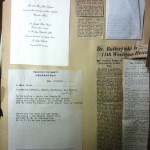 Marianne Vaine Scrapbooks, 1920-1960. Ms. Vaine was a longtime Middletown resident and Wesleyan employee.  The scrapbooks include concert and play programs, travel souvenirs, greeting cards, newspaper clippings, and other materials that help document the life of a Middletown woman from the 1920s to the 1960s. Call Number: SPECIAL COLLECTIONS 2006-21
Sangree, Walter. Mel Hyblaeum: A Study of the People of Middletown of Sicilian Extraction with Special Emphasis on the Changes in Their Values Resulting from Assimilation into the Middletown Community. Call Number: SPECIAL COLLECTIONS Middletown (Thesis) M1952 S22
Have you used some of the local history collections in SC&A? Which ones were useful to you?