SC&A likes to give you a heads up when there's a collection that's ready for use.
We have a good one for you—a collection of 19th century photographs. The Joseph W. Reed and George Creeger Collection of Human Likenesses, 1840-1900, is just about ready for you to use. English Department faculty members Joe Reed and George Creeger collected 19th century photographs—carte-de-visites and other card albumen prints, tintypes, cased daguerreotypes and ambrotypes. Professors Reed and Creeger targeted photographs of people, usually portrait photographs, "human likenesses."
In and of itself the collection is interesting: does anyone not like old photographs? They give us a window to a past we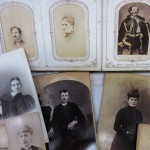 haven't lived: toddlers, boys and girls, wearing dresses; men with obviously waxed moustaches; women in high collar dresses. We begin to weave a story around what we see: a young couple with the woman seated and the man standing with his hand on her shoulder; another couple, not as young, each holding a book and the man in an Anglican collar.
The collection will prove useful as a study collection.  You can examine a daguerreotype and ambrotype side-by-side and finally see the difference between the two hard-to-distinguish formats. You can look at the evolution of photography from the daguerreotype start to highly commercial carte-de-visite. Thanks to Professors Reed and Creeger's careful collecting, there are even the parts of cased images for examination: brass mats and frames, case covers, and daguerreotype plates.
There will be a finding aid to the Joseph W. Reed and George Creeger Collection of Human Likenesses, 1840-1900 added to our website at: http://www.wesleyan.edu/library/schome/collection-overview/findingaids.html.
Next week we'll tell you about a related collection that's almost ready for your use, the Cased Images Collection.