SC&A is on a roll.  We have another collection ready for your use: Cased Images Collection, 1849-1860.  What are cased images? Those are the nineteenth century photographs presented in protective, often decorative, enclosures.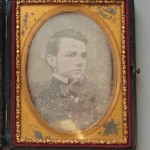 The cases were often small—about 3.25" by 3.75"—and could be larger. This collection includes daguerreotypes and an ambrotype.
Not everyone is familiar with nineteenth century photograph formats.  But maybe you have seen those old, reflective images. If not, Wikipedia offers you some description and James Reilly's classic Care and Identification of 19th-Century Photographic Prints (1986) is a better resource. There's also Beaumont Hall's classic The Daguerreotype in America (1961).
The collection of 19 cases includes composite daguerreotypes of Wesleyan's Classes of 1849 through 1854.  (Composite daguerreotypes are a larger daguerreotype taken from a grouping of individual daguerreotypes.) There are also portrait images of Wesleyan alumni.  As interesting as the images are, the cases are sometimes even more intriguing.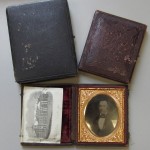 The Cased Images Collection, the Reed and Creeger Collection of Human Likenesses (Nineteenth Century Photos), and the Class Albums Collection (Class Albums) give  you access to approximately 2,000 nineteenth century photographs in Special Collections & Archives.