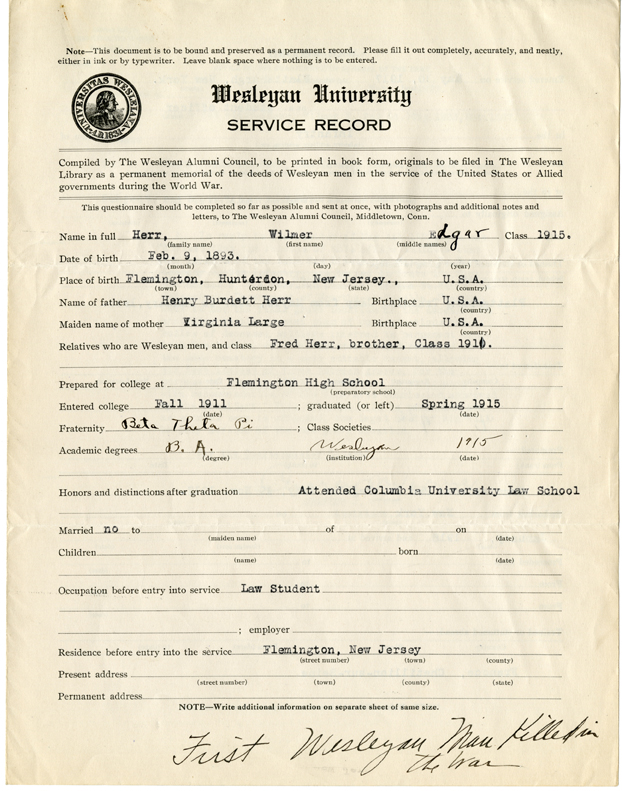 Page one of Wilmer Herr's WWI Service Record. The remaining three pages are below.
The pick of this week is the World War I Service Record of Wilmer Edgar Herr, Class of 1915.  "Bennie" Herr (as he was known to his classmates) was the first Wesleyan man to be killed in the war.   His brother, Major Frederick Herr (Class of 1911) filled out the form documenting Bennie's service and his death from an explosive shell in the front line trenches just south of Verdun, France.
The WWI Service Records are a collection of surveys "compiled by The Wesleyan Alumni Council, to be printed in book form, originals to be filed in The Wesleyan Library as a permanent memorial of the deeds of Wesleyan men in the service of the United States or Allied governments during the World War."  Different forms were sent to the families of deceased servicemen and to the men who survived the war.  Veterans were asked questions about their lives after the war, their attitudes toward military service, and the relations between the military and college life.  Here is the link to the finding aid for the World War I Service Records: http://www.wesleyan.edu/libr/schome/FAs/wo1000-148.xml  As far as we can tell, the surveys were never published in book form.
This semester, frosh in the Visual Biography class (FILM103) taught by Visiting Artists in Film Studies Jessica Helfand and Adam Harrison Levy (Class of 1985) are each writing a 250-word biographical sketch of a Wesleyan WWI serviceman, using his WWI Service Record as a springboard.
By Suzy Taraba