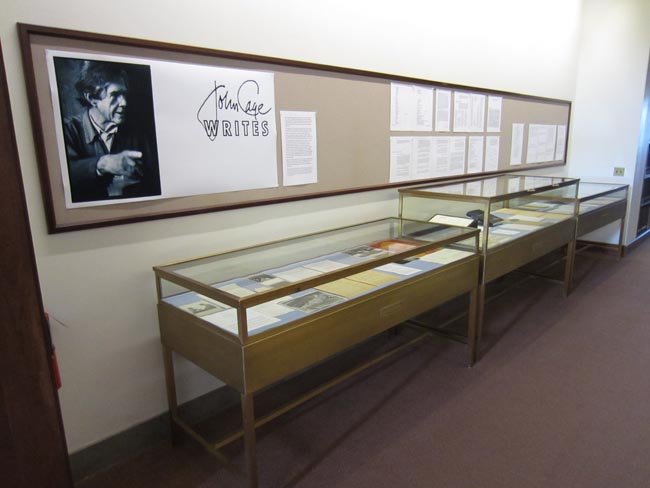 The pick this week is our new exhibition, John Cage Writes, that opened on Monday, December 3rd. It focuses primarily on the five books influential experimental music composer, writer, and artist John Cage wrote that were published by Wesleyan University Press: Silence (1961), A Year from Monday (1967), M (1973), Empty Words (1979), and X (1983). He had a long relationship with Wesleyan from 1955 until his death in 1992, collaborating with members of the Wesleyan music faculty, composing and performing on campus, and serving as a fellow at the Center for Advanced Studies in 1960-1961 and the Center for the Humanities in 1969-1970. In recognition of the university's support of his literary efforts, he donated the papers related to his writing to Wesleyan. The exhibition draws on these materials, the Wesleyan University Press Mint Collection, and other collections held by SC&A.
Cage painstakingly and methodically created his writings. Examples are taken from each of the five books that illustrate how Cage developed his pieces, and one can see that they are the result of carefully organized workings and re-workings, some involving intricate planning and complex calculations. No attempt is made to decipher what these documents may mean, and in many respects, what you will see is as much an exhibition of art as it is a display of literary manuscripts. Although the finished work is ultimately defined by the formatting of a published book, the exhibition takes a few liberties and reformats some of the pieces for display.
Cage's wide-ranging influence in music and dance is well known. Book artists, too, have embraced his literary methodology, his devotion to the role of chance in artistic creation, and his use of complex computations in choosing which path to take. Some examples are shown in the exhibition.
John Cage Writes is presented in conjunction with John Cage & Public Life, a collection of events celebrating the centenary of John Cage in 2012 by focusing on his understanding of music as a social process, as part of Music & Public Life, a year-long campus and community-wide exploration. The exhibition was curated by Leith Johnson, University Archivist; Suzy Taraba, Director of Special Collections & Archives, prepared the case on Cage's influence on book artists. All items displayed are from the John Cage Papers, unless otherwise stated. John Cage Writes will be on view through March 8, 2013.