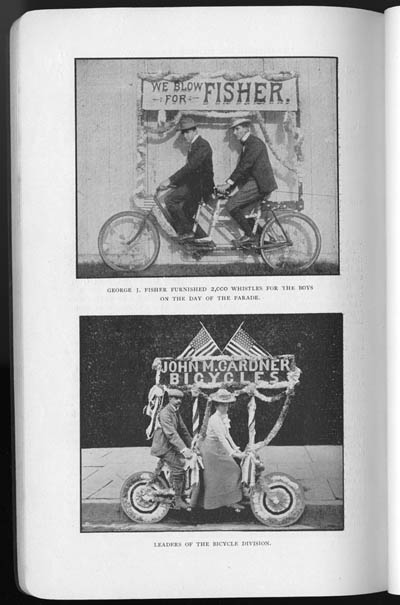 A reader asked to see 1650-1900. Mattabeseck. Middletown. A description of the exercises connected with the two hundred and fiftieth anniversary, October 10 and 11, 1900. This booklet has a tremendous amount of detail about the celebration, including a full description of what we're told was one of the longest parades yet assembled. The page of photographs above featuring bicycles really caught my eye. Quoting the booklet:
"Mr. and Mrs. John M. Gardner, on their gaily decorated tandem, called attention to the fact that bicycles were sold and repaired at Gardner's L.A.W. headquarters.
"Geo. A. Fisher gave away during the parade over two thousand whistles, which fact was emphasized by his exhibit, which certainly fulfilled its mission."
Two thousand whistles? That must've been something to hear.