What do you think of when you see the name "Booth" on the cover of a 19th-century U.S. play?  Does the name "John Wilkes Booth" come to mind, perhaps?  I've been cataloging just such an item, a promptbook of the 1859 play The Octaroon.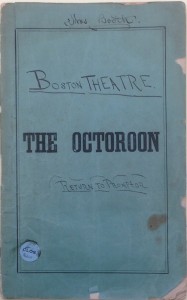 Right at the top of the cover, handwritten in ink, is the name "Mrs. Booth."  Could there be a connection between this Mrs. Booth and John Wilkes Booth?
It turns out that John Wilkes Booth never married, so he had no "Mrs. Booth" by his side.  But he did have two brothers: Edwin Booth, and Junius Brutus Booth, Jr., both of whom were married.  The investigation begins…
Edwin Booth was one of the most famous and most highly respected Shakespearean actors in the 19th century U.S. theater world.  If his younger brother had not assassinated Abraham Lincoln, Edwin would have far outshined him in the history books.  Edwin was married twice — first to Mary Devlin until 1863, when she died, and later to Mary F. McVicker, from 1869-1881.
Junius Brutus Booth, Jr., was also an actor, as well as a respected theater manager.  He married Agnes Booth (neé Marion Agnes Land Rookes), who was perhaps an even more talented actress than her husband.  Now we have three candidates: Mary Devlin Booth, Mary McVicker Booth, and Agnes Booth.
This particular promptbook was published for a specific production of The Octoroon, produced in Boston in December of 1861, showing at both the Boston Museum and at the Howard Atheneum.  Shown below are the cast lists for each location, on p. 2 of the promptbook.  None of our three names are listed there, but could the wives of either Edwin Booth or Junius Brutus Booth, Jr., be connected to that production in some other way?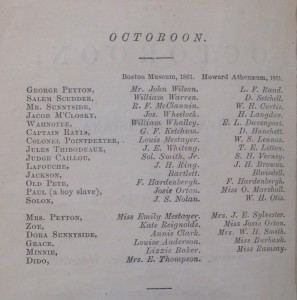 Mary Devlin Booth and her husband Edwin were living in England in late 1861, and Mary gave birth to their first child around that time.  So she is probably out of the running.
Mary McVicker Booth was an actress, but lived in Chicago until she married Edwin in 1869.   She also probably had no connection to the 1861 Boston production.
Agnes Booth did not marry Junius Brutus Booth, Jr., until 1867 — well after the 1861 production.  But Junius and she both lived and worked in Boston later.  Junius was the manager of the Boston Theatre starting in 1864.  And on the cover and on page 3 of the promptbook is written "Boston Theatre, Return to Promptor."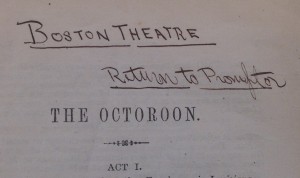 Could it be that this promptbook made its way from the Boston Museum or the Howard Athaneum over to the Boston Theatre for a later production?  And could it be that Agnes Booth owned this copy?  There is no proof yet for this hypothesis; further research is needed.  But if anyone finds out that Agnes Booth acted in a later production of The Octoroon in Boston, please let us know!