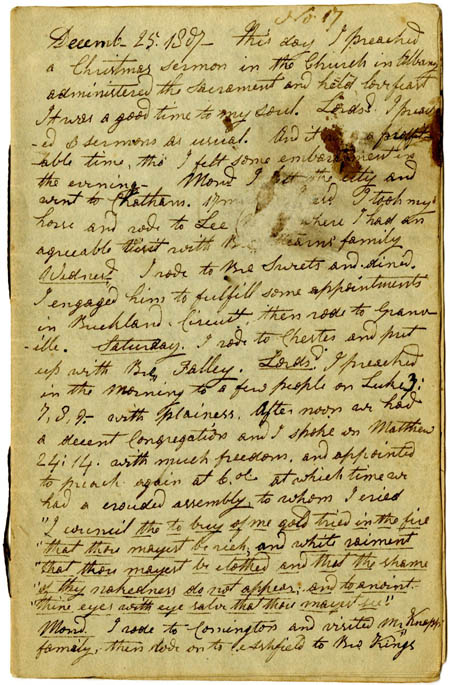 An inquirer asked about Laban Clark's journal from 1807. Clark kept a number of journals. Here you see the first page of journal "No. 17," which starts on Christmas Day. You can find a full description of the Laban Clark Papers here.
From 1801 to 1851, Laban Clark was engaged in the work of the ministry, New York and New York East Conferences, Methodist Episcopal Church. In 1803 he served as a missionary in Lower Canada. Clark introduced the resolution to organize the Missionary Society of the Methodist Episcopal Church in New York City in 1819. Clark took an active part in advocating Willbur Fisk's educational report in the General Conference in 1828. Both were in sympathy with the movement to establish a Methodist college.
It was while Clark was presiding elder of the New Haven District in 1829 that he became interested in acquiring the buildings and grounds of the American Literary, Military and Science Academy (ALS&M) in Middletown, Connecticut. At the Troy Conference in May 1829 Clark made the proposal to buy the ALS&M Academy property. After other locations were studied as well, and the endowment funds raised, the General Assembly of the State of Connecticut granted a charter to the Wesleyan University on May 21, 1831. Laban Clark served as the president of the Board of Trustees from 1831 to 1868. In 1852, Clark was awarded an honorary Doctorate of Divinity degree from the University. He died in 1868.