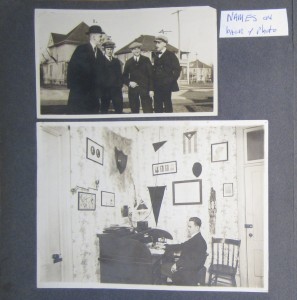 In the fall of 1910, a young man from Oneonta, New York—a small town made important by the railroad earlier in the 19th century—stepped onto Wesleyan's campus. He was only the second in his family to go to college, but he was not the first Cardinal; his older brother had recently graduated in 1907 and this young man was ready to create his own stories that he could tell to the people back home. He was one of 121—the largest entering freshman class up to that point in Wesleyan's history. His name was Lynn Smith Miller.
Lynn Smith Miller had a Wesleyan experience that was similar to many other individuals who came both before and after his graduation in 1914. He went to the movie theater on Main St. (The Nickel Theater at that time); he attended Vesper Services, cheered at the football games, dealt with a roommate, and sometimes did not finish his assignments. The difference between Lynn Smith Miller and many other Wesleyan students is that he left a record, a detailed record of his own creation, of his time on campus.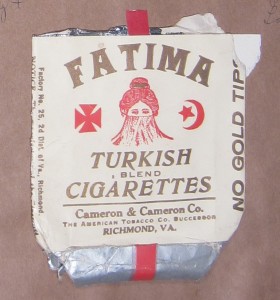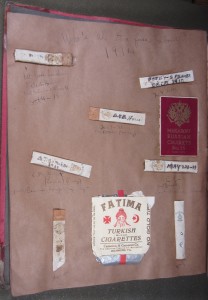 Rather than just having paperwork on Miller or seeing his name in the alumni records, we can see the cigarettes he smoked (some of them Turkish), the invitations he received (some from then-President Shanklin), the ticket stubs he purchased (from both live productions and movies), his schedules (lots of language classes), and his admittance into his fraternity (the Wesleyan Chapter of Delta Upsilon). We have his booklets from all of the dances he attended with the names of his partners carefully penciled in next to each dance. We have his diary and tuition bill for 1913. We know of Miller's pride in his classes triumph in the "cannon scrap" of the Douglas Cannon in 1910 because of the numerous newspaper articles he saved. We know all of this because of the immense scrapbook that Lynn Smith Miller created that was recently donated to Wesleyan's Special Collections and Archives by his son John W. Miller, Class of 1953.
The scrapbook is about 160 pages with multiple items on each page and more stored in envelopes inside the scrapbook. These items either relate to Miller' personal experience at Wesleyan or to the more general experience of a student enrolled in the University at the beginning of the 20th century. By flipping through the pages of the scrapbook, one can get insight into what student life was like—what were the popular events on campus, what were the groups that formed and which stuck around, what were the prevalent courses, and what did students find were particularly important experiences to have during their time on campus. Beyond the scrapbook, the collection contains two diaries (one covers Miller's freshman year [1910-1911] and the other covers the second semester of his junior year [January-June 1913]), medals given to Miller at Wesleyan's 100th anniversary in 1931, and a supplemental binder put together by Miller's son containing secondary information. The diaries give a day-by-day accounting of what Miller was going through. Information ranges from the seemingly unimportant—perhaps the weather for that day—to the anticipated moments—getting to walk downtown and see a movie.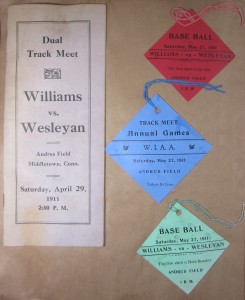 Lynn Smith Miller would go on to graduate Wesleyan with a B.A., although his family is not sure in what subject his degree was given (they think it was in history). He served in World War I as a member of the U.S. Infantry and then worked in newspapers with his older brother in both North Indianapolis, Indiana and Royal Oak, Michigan (a suburb of Detroit). Lynn Smith Miller passed away on January 26, 1962 in Michigan. He and his family, including one son who also graduated a Cardinal with the Class of 1953, continue to be a part of the Wesleyan community; the donation of this scrapbook lets us unite with a classmate from a century ago.