By Maggie M. Long
The Coen brothers pay homage to old Westerns in their most recent film "The Ballad of Buster Scruggs", an anthology of six short stories of the Old West, with the first featured story about an affable singing cowboy so familiar in many Westerns of years ago. We too have in Special Collections & Archives (SC&A), a story to tell about another singing cowboy, but not the gun-slinging or cowhand type. It was serendipity to rediscover in the closed stacks of SC&A a collection of cowboy and country music songbooks and sheet music that once belonged to a former student, William Bender, Jr., (born August 1, 1916 in Brooklyn New York), a non-graduate of the class of 1938. He attended Wesleyan University from September 1934-June 1935, and was a member of the Sigma Chi fraternity.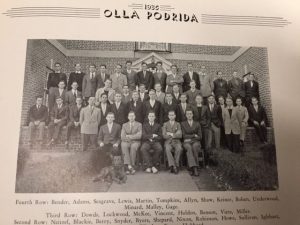 It must have been the call of new frontiers because in 1936 he moved out West to attend Colorado University, where he became better known as Bill Bender. After not much time out West he picked up a western accent and having always liked to sing, a schoolmate suggested he try for a job at the radio station KOA in Denver. The station hired him to host a weekly then semi-weekly radio show featuring a wide variety of country musical performers popular during the time such as Dude Martin and his band; Fred Scott, "The silver voiced buckaroo"; The Drifting Pioneers, a four-man country music group; and the Golden West Cowboys, featuring Pee Wee King and others (see photo below).
After returning to the east coast around 1939, he worked a non-entertainment day job but his desire to sing and play guitar continued. Through music publisher and songwriter contacts he met when hanging out near Tin Pan Alley, he received an opportunity to record some traditional western ballads on an album titled "Frontier Ballads and Cowboy Songs" (with later re-issues). The recording was a hit for Bender but for some reason it seems he did not look upon his success as the beginning of a music career. Provided here is a link to a digitized audio recording of Bill's singing voice.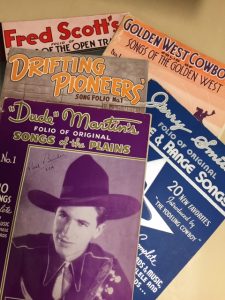 Who knows what would have happened next for him in his singing career because then the war came and like so many others, life changed. As a military service member, Bill Bender served his country honorably in the armed forces, from 1943-1946 as an Air Force Captain during WWII. During this time, he also managed to continue playing the singing cowboy where on his off hours he appeared under the pseudonym "Curly Bowers" on the radio station KOB in New Mexico.
After completing his military service, he returned to the University of Colorado, graduating Class of 1947. He became a staff member of the Radio Production Department working in public relations and radio programming. In a Rocky Mountain Empire Magazine article (May 30, 1948)* "Bill Bender today is recognized by folklorists as one of the West's foremost ballad singers. Another tribute to his authenticity comes from the novelist and poet Vincent McHugh, in an article he wrote about homemade songs and homegrown singers "Sing me a homemade song" published in the January issue of '48 Magazine, describes Bill Bender's singing of cowboy songs in a "genuine easy Westernism."
From the Wesleyan University Alumni record and further searches, we find Bender continued his career performing similar work duties as a staff member at the University of Michigan Broadcasting Service-Radio, in Ann Arbor during the 1950s and 1960s.
It has been a pleasure to get to know something about the former Wesleyan University student William Bender, Jr., through the collection he left with us. We have enjoyed telling a bit about his story and do hope you have enjoyed learning something about him as well.
As with many stories there is a final note. The trail ended for Bill Bender, Jr. on December 8, 1975 in San Antonio, Texas. He is buried in Arlington Cemetery, along with his wife, Jeanne, who passed away in 2004.
*Article courtesy of the Colorado Historical Society.
https://archive.org/details/78_cowboy-medley_bill-bender-the-happy-cowboy_gbia0057168b